Imagine warm sunlight, blue sky, gentle sea waves and pleasant, refreshing breeze. Sounds like a dream on upcoming holidays? If you enjoy physical activity, the new 4F collection will make you feel the warmth of real summer.
The weather outside the window makes us think about hot, sunny days ever more often. If you work on your beach body or simply love physical activity, you need to include the 4F summer clothing lines in your outfits. A holiday outfit will immediately boost you with extra strength and motivation to action. The inspiration for summer season patterns, colours and cuts was found in bright sunlight, blue sky, warm sand and quietly murmuring, calm sea, i.e. every aspect of summer that we all long for the whole year. Sea colours, adorned with a splash of turquoise and refreshing mint, prevail in both women's and men's line. White colour, emphasizing the suntan, and classic shades of grey, as well as timeless black are also prominent. From now on, the summer is really close!
Training on a sandy beach
The Slow futures fitness women's line refers to water sports and training on the beach. Prints and colour palette are inspired by the sea and waves. Motivational slogans define true female warriors. The variety of cuts, materials and prints allows you to freely combine individual elements. You do not have to worry any more that they will not match. For hot days, we recommend you shorts, while leggings would be a perfect choice for gym workouts. Train in a sports bra only or put an oversize T-shirt on it – there are many options, and the sky is the limit. For your own training comfort, 4F designers applied innovative solutions: flat stitches in the fitness line clothes in order to minimize abrasions, and inner pockets in the trousers' and leggings' belt, where you can store keys or a payment card.
What about surfing on the ocean waves?
For active relax, choose clothes from the sportstyle line. The Blurred Surfer men's line is inspired by water sports and a passion for surfing. That is why, prints with waves are a must. Pastel colours perfectly reflect the atmosphere of warm beaches, sun and water. Men's outfits have never been easier to style – you can choose from several models of T-shirts and shorts available in the same colour to easily create various casual sets. Cotton T-shirts and shorts with a belt regulation are ideal for walks, picnics in the park, or hanging out with friends – you will feel really comfortable in them! Complement your outfit with such accessories as a hip bag so as to ride a bike freely, and wear a baseball cap to protect yourself against strong sunlight.
Photo gallery: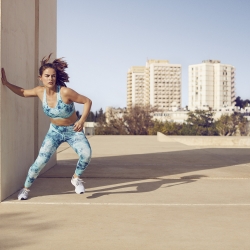 Download files: