In August 2021 we opened a modern Distribution Centre in Czeladź, Poland (Śląskie Voivodeship). A warehouse complex built with care for the environment and the comfort of our employees. The 40,000 square-metre warehouse has advanced automation to facilitate work. Do you want to be a part of that? Check out our offers and join our team. First lap starts NOW! #WeMakeaTeam
Meet our team

Honorata Kucharska
Warehouseman, Area Leader
"My work at OTCF started in 2021. It was the best decision I have made as I decided to make a change after working in retail for over 20 years. I am currently the ECOM-pick area leader. Working in a team in which I work has a positive effect on the energy and enthusiasm of employees to perform their duties. From my superiors I can count on a good word, support and a smile which is very important to me."

Mateusz Trólka
Logistics Coordinator
"I will soon be celebrating the round tenth anniversary of my adventure at OTCF. I learned here everything that was unsaid in my studies and even more! I've had plenty of opportunities to do so, as I've worked my way up through every possible career level: from picker, junior and senior warehouseman, foreman, junior and senior specialist, right up to Logistics Coordinator, which I am today: it's this opportunity for development that I like best about OTCF. The last ten years have been full of interesting experiences and valuable lessons. I have improved my assertiveness and met many interesting people."
Join us!
A great team and atmosphere at work, attractive salary and bonus system, gym, cards and discount vouchers for shops, company events, competitions and draws with prizes, tickets for events and sports matches are all waiting for you!

You can also use the Multisport package, private medical care, group insurance and join company sports teams.
Development path
OTCF's career path starts with an intern, further development is up to you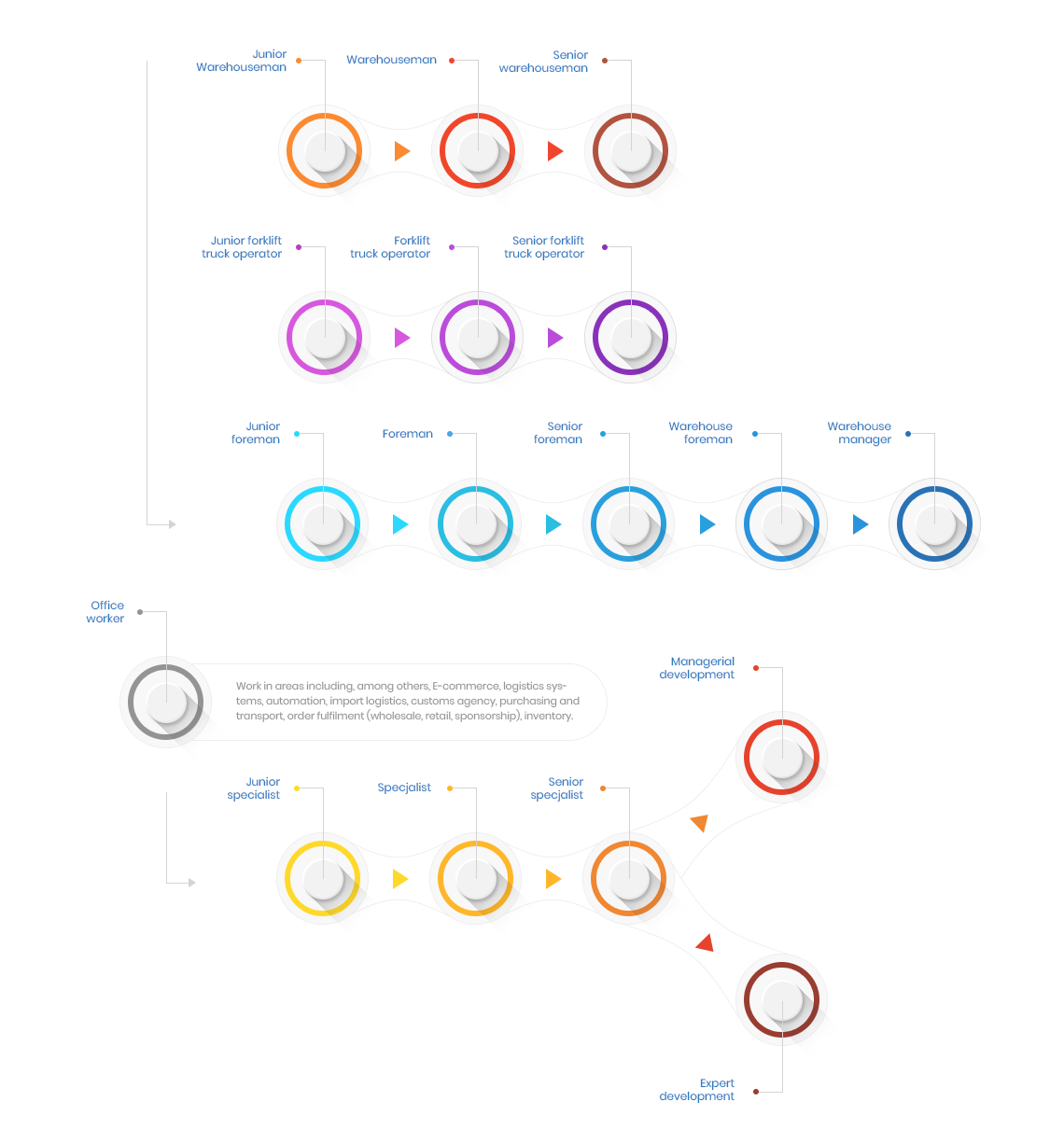 To top