Active and fashionable all day long! That's the campaign idea created by Outhorn, a brand designed for those who look for modern, functional and versatile clothes. Outhorn encourages to seek inspiration in athleisure trend mixing sportswear and casual clothes. Our spokespersons, Urszula Dębska and Michał Malinowski, are actors by profession and active leisure amateurs by passion. If, like them, you love sports, and you are in need of solutions that will keep up with your quick pace of life, you'll find everything you need at Outhorn.
Outhorn product offer is designed for those who want to stand out and feel one-of-a-kind in the urban space, but at the same time do not want to give up the comfort of sportswear. For those people, Outhorn designers married fashion trends and sporty style, which gave birth to a line of clothes inspired by physical activity. Trendy but practical, offering free range of motion and visually shaping the silhouette. Outhorn marries various interesting shapes and fabrics. The outfits offered by us are natural and fit for any occasion. We strive for keeping up with the changing world, that's why ULTRA VIOLET, the colour of the year 2018 according to Pantone, prevails in our creative concept for this year.
Spokespersons buzzing with positive energy
Ula Dębska and Michał Malinowski are full of energy. In fashion, they value non-obviousness, e.g. Ula boldly matches leggings with long shirts and sneakers, whereas Michał is not afraid to wear converse to a more elegant outfit. "Each day, I'm in a rush. That's why I look for solutions that will keep up with my fast pace of life. I choose Outhorn, because I can wear their clothes for any occasion. All I need is a couple of adjustments. I simply change the shirt for a T-shirt, I put on my roller blades, and I rush to the park", says Urszula Dębska. "When I take a break from theatre, I pack a few things to my car and escape to Masuria lakes. I take with me my favourite book, yoga mat and a couple of sets of comfortable clothes. Not too many, because I can always mix and match them", she adds. Athleisure is a trendy style they both feel comfortable with. Pure perfection. "Everyday life faces me with a great deal of challenges. That's why I seek places and activities that help me recharge my batteries. In the summer, I sail, and in the winter, I snowboard. Nothing relaxes me more than new challenges. My clothes reflect who I am. Such a style allows me to keep my cool", says Michał Malinowski.
Check if you follow athleisure trend
Outhorn products reflect athleisure trend, which matches pieces of clothing that at first glance seem not to go well with one another at all. Athleisure marries althletics and leisure: sportswear is worn to work, to school and to social events. Pieces of fitness clothing start to "break out" to the streets and become elements of everyday styling. The products combining fashion and sports include, e.g. softshells, sweatshirts, shorts, trousers and sports accessories, which can be mixed and matched in many different ways. You do not longer need to fear that something will not go well with your outfit. If you wear converse and a trench coat for work or you match sweatpants with high heels for the evening, you are definitely a trendy athleisurer!
See you at OUTHORN!
Photo gallery: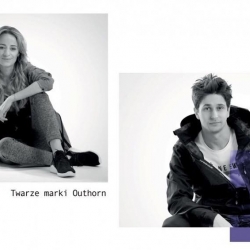 Download files: